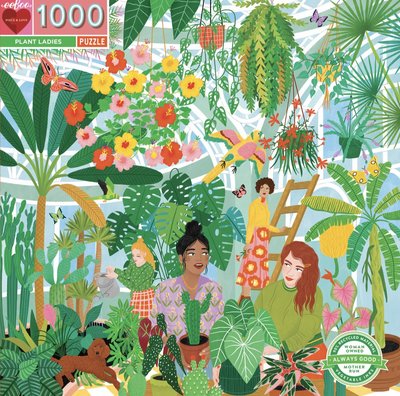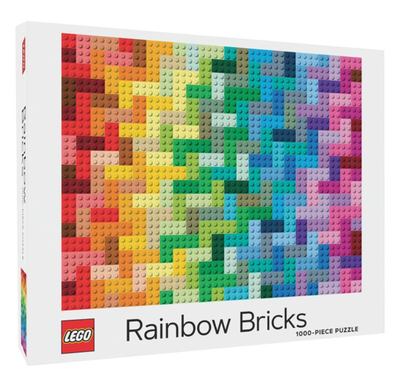 $40.00
NZD
Category: Puzzles/Games | Series: Lego Ser.
Master Builders, this jigsaw puzzle is the LEGO® challenge you've been waiting for. With the LEGO Rainbow Brick Puzzle, 1,000 pieces come together to reveal bricks in all shades of the LEGO rainbow - from Bright Red to Earth Blue to Cool Yellow and everything in between. Fun for solo builders or the who le family, this LEGO rainbow will brighten any cloudy day. ...Show more
$30.00
NZD
Category: Puzzles/Games
Piece together the world of Jane Austen in this exciting new 1000 piece jigsaw, inspired by the life and works of the prolific author. Featuring a wide cast of Jane Austen's contemporaries and characters, take a tour of Austen's world from the rolling hills of Derbyshire, via Hampshire and Lyme Regis, t o the golden stone of the Bath skyline as your build this puzzle. All of your favorites are hiding in this busy and engaging scene, waiting to be found by you! From Mr Darcy walking the grounds of Pemberley, to Anne Eliot enjoying a seaside escape, discover hidden gems as you make this puzzle and enjoy the final scene. The perfect challenge for Janeites, or anyone who loves a good jigsaw, this puzzle full of whispered intrigues, harmonious weddings and proposals is sure to delight. The World of Jane Austen is the second in Laurence King's new series of jigsaw puzzles, following The World of Shakespeare, and includes a pull-out poster full of fun Austen facts   ...Show more
$19.00
NZD
Category: Puzzles/Games
A seed sprouts, and then becomes a flower. It's raining, the sun comes out, and then a beautiful rainbow appears Young children will delight in Kanae Sato's delicate images while learning simple stories and logical sequences with these three-piece jigsaws. The five jigsaws feature specially commissioned child-friendly illustrations and come in an attractive box. ...Show more
Poo Bingo
by Aidan Onn; Claudia Boldt (Illustrator)
$35.00
NZD
Category: Puzzles/Games | Series: Magma for Laurence King Ser.
Discover all you ever wanted to know about poo - and more - with Poo Bingo! Featuring 24 animals and their uniquely shaped poos, this is the bingo game to end all bingo games. Kids will delight in discovering that wombats poo in cubes and that penguins poo in squirts that are different colours depending on what they've eaten! Be the first to fill your game card with animals and poos to win BINGO! ...Show more
$48.00
NZD
Category: Puzzles/Games
Test your Jane Austen IQ as you help your favorite characters make their perfect romantic matches with this charming Pride and Prejudice meets Chutes and Ladders board game. Whether you're a fan of the novel or the film adaptation, it's impossible not to be seduced by the passion of love and the drama of social scandal with this board game based on Austen's classic. This elegant board game in the format of Chutes and Ladders is inspired by Jane Austen's Pride and Prejudice. The object is to meet your perfect match on square #100, where two golden rings announce that you have found your ideal partner. To get there, choose your character and roll the die. Spin the wheel, answer Jane Austen trivia questions, and, depending on what square you land on, you will rise on social ladders or fall down ropes of scandal. With enchanting full-color art, whimsical packaging, and 100 Jane Austen trivia questions, Lizzy Loves Darcy is the ultimate game for literary nerds and board game enthusiasts alike. ...Show more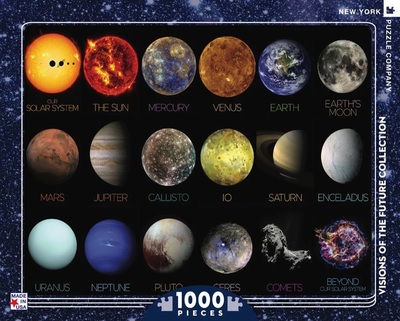 $30.00
NZD
Category: Puzzles/Games
A collection of restful puzzles and brain-training activities, designed to relieve stress andinspire creativity. This is the fourth in a series of four books by the same bestselling author, which currently includes The Mindfulness Puzzle Book, The Mindfulness Puzzle Book 2 and The Mindfulness Puzzle Boo k 3. There is also an ebook, Mindfulness Puzzles for Your Kindle, comprising content from books 2 and 3. Puzzle-solving is a favourite relaxation technique for many, and this book features a wide range ofspecially selected games to provide the perfect level of challenge and reward for your brain. Feelthe tension release as you focus on each achievable and fun task, and experience the endorphin-reward buzz as you successfully complete each puzzle. Stimulating your mind with each puzzle also helps unlock your brain's innate creativity, just assleep and rest can help you reach a breakthrough on pending tasks. This book will help you feelrefreshed and renewed, and ready to carry on with your daily life. Puzzles include a wide selection of standard puzzle types, avoiding the stress of the new,but without the boredom of over-repetition. They also include adult versions of relaxing kids'activities, such dot-to-dot puzzles, mazes, colouring-in and spot-the-difference puzzles. ...Show more
$33.00
NZD
Category: Puzzles/Games
From the courts of Versailles to the cobbled streets of Paris, French fashion has always been the epitome of elegance. Whether it's the New Look, the Le Smoking jacket or the little black dress, the masters of French fashion understand that clothing is more than a craft: it's an art form. The Elegance 1 000 Piece Puzzle is an exquisite celebration of haute couture, prêt-à-porter and everything chic, from internationally renowned fashion illustrator Megan Hess.* Completed puzzle measures 18.9 x 27 inches* 3-10 hours to complete* Recommended for ages 10+   ...Show more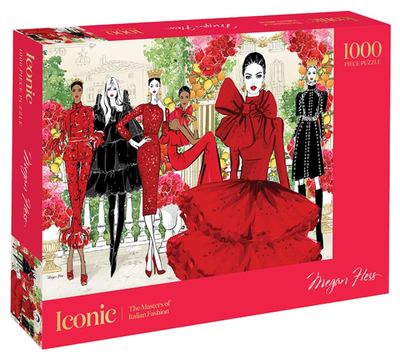 $33.00
NZD
Category: Puzzles/Games
For centuries, Italian fashion has been known for its craftsmanship and luxury, but also for its creativity and, most of all, its passion. Lace, leopard print and show-stopping red dresses - the masters of Italian fashion know how to make a statement. The Iconic 1000 Piece Puzzle is a lavish celebration of Italian fashion's most dramatic looks, from internationally renowned fashion illustrator Megan Hess.* Completed puzzle measures 18.9 x 27 inches* 3-10 hours to complete* Recommended for ages 10+   ...Show more
$55.00
NZD
Category: Puzzles/Games
Beautiful Bees & Honey Vintage Puzzle by Cavallini & Co (1000 piece jigsaw) Poster guide included Packaged in a 25 cm puzzle tube A drawstring muslin bag safely keeps all puzzle pieces together Vintage imagery from the Cavallini archives Finished puzzle size: 55 x 70 cm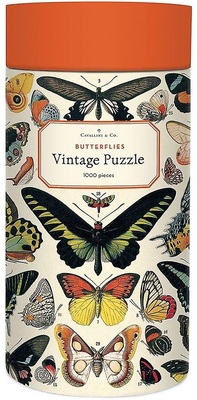 $55.00
NZD
Category: Puzzles/Games
Butterflies Vintage Puzzle by Cavallini & Co (1000 piece jigsaw) Poster guide included Packaged in a 25 cm puzzle tube A drawstring muslin bag safely keeps all puzzle pieces together Vintage imagery from the Cavallini archives Finished puzzle size: 55 x 70 cm