HAPPY NEW YEAR - 2018
Well, here we are, another new year in front of us and more new books than you can possibly imagine.
Isn't it wonderful how each year, even more new fantastic books are written.
My Top 100 Of All Time is constantly being revised...
To begin with , for our Hamilton readers, we will be at the
Hamilton
Gardens Arts Festival
supporting two authors who will be there talking about their books.
Saturday 17th February, 11.00am
RANTS IN THE DARK by EMILY WRITES
A family event especially for those with babies,toddlers and expectant parents (PLUS others who are thinking about about having a family).
There's perfect parenthood and then there's real parenthood. This popular Kiwi blogger tells the unfiltered truth. It is about sleep, or actually, lack of, how to best feed this strange new love of your life and many, many other things you as a new parent never thought you would have to deal with. Every potential parent starts out thinking that they will be a
perfect

parent, rolling their eyes as other people's children misbehave in public. Never will happen with them...This is

not

an advice book, it is a book to make you realise you're not alone.
Funny, especially for those whose sleepless nights are well in the past (only because their children have yet to start driving). However, Emily will strike a chord with all, come along and be reassured and laugh helplessly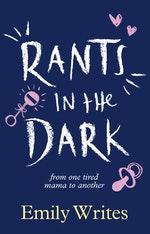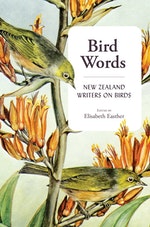 Sunday 18th February 2.00 pm
BIRD WORDS Edited by ELISABETH EASTHER
This is a lively anthology of fiction, nonfiction and poetry celebrating the birds of Aotearoa. This is also a book that is so much more than the sum of its parts. There are tales of admiration and love as well as shooting and taxidermy. The beautiful hardback book has exquisite black and white illustrations of our often, unique birds, and celebrates the stories based around the impact they have in our lives.
Join Elisabeth and three of the contributors as they read pieces from the book and have a lively discussion on all things bird!
NEW NON-FICTION:
HAND A MAN A SPANNER by RUSS RIMMINGTON
Russ Rimmington is a well-known Waikato man, and this is his story of how he started out; abandoned by his mother at eight years of age through to his success after taking a simple widget and turning it into a multi- million dollar success story.
This is a warts and all story that will give an illuminating insight into a man you may have heard of or even worked alongside of. It has been an easy journey, it has been a difficult journey and the author's determination to succeed and be beholden to no one is what shines through.
FIRE AND FURY, Inside The Trump White House by MICHAEL WOLFF
Like many of us you're probably still sitting with your mouth open after Trump has opened his and so again reminded many of us of that well known adage " it is better to keep your mouth shut and appear ignorant, than to open it and remove all doubt"
Michael Wolff writes about the first nine months of this controversial president from the advantage of actually being in the White House as the new team established itself. Well written and endlessly fascinating for those who have never had the opportunity to study the machinations of American politics up close
TINKERING: THE COMPLETE BOOK OF JOHN CLARKE
Not quite as new as the previous books but one we want to bring to your attention because this is about OUR Fred Dagg ( forget he went to Australia- there are many valid reasons for that decision) he is still OUR man. One of our funniest men ever.
This is a book telling of John Clarke's writing life, including a fan letter he sent to an All Black when he was ten years old, a golf instruction manual like no other (" lift your head when you hit the ball otherwise you won't see where it goes")and Anna Karenina in 43 words. (Actually one of my favourite abridged stories is Moby Dick) and of course, The Fred Dagg Advisory Bureau. This will make a wonderful gift for all of those who remember this comic genius who, again, has left us. For good this time. RIP
NEW FICTION:
THE WOMAN IN THE WINDOW by A J FINN*
Anna Fox lives alone, a recluse in her New York city home; agoraphobic, alcoholic(?) she spends her days watching old movies and spying on her neighbours.
Then the Russells move into the house across the way- a perfect looking family. However, Anna gazing out her window one night sees something she shouldn't and her world begins to crumble- and its shocking secrets are laid bare
An intriguing debut novel which is receiving excellent reviews. (*A J Finn is also known as Dan Mallory)
ELEANOR OLIPHANT IS COMPLETELY FINE by GAIL HONEYMAN
Except she isn't. A story that begins slowly and then takes you gently (but with increasing speed- bumps)into Eleanor's life story. Another debut novel this one is a smart, warm and uplifting one as it tells the story of an out-of-the-ordinary heroine whose deadpan weirdness and unconscious wit make for an irresistible jouney. This girl grows on you as she gradually tells of her loveless life and her somewhat half-hearted attempts to fit in to the status quo. Quirky and memorable, this book is also receiving excellent reviews.
THE ONLY STORY by JULIAN BARNES
A new novel from Julian Barnes. Yay!
There are obvious similarities between this and his Man Booker Prize-winning
The Sense of an Ending.

Told from the points of views of now okder men looking back over their lives each explores what Barnes has his most recent protagonist describe as "that familiar question of memory" , namely its inherent unreliability and bias. tender and wise, this book is a deeply moving novel by one of fiction's greatest mappers of the human heart.